What sort of art or design do you do?
I specialize in illustration and animation. I do comic book illustration and book illustration as well as rotoscope animation.
I work consistently with a comic book company called Dynamite Comics. I had seven comics published last year with them, and I had two comics published this year. (I did the covers.)
What has been your path to success as an artist?
It all started off when I was three years old and I won my first art contest. It was like, "Oh! I'm good at this, let's keep doing this, because I like this feeling."
I've been doing artwork professionally since I was 13. My first paid gig was I was doing illustration for the local newspaper's kid section. For college I went to a school specifically for comic book illustration in New Jersey called the Kubert School of Cartooning and Graphic Art. From there, I went on to start doing comics in 2011.
I also worked with an online community called Hit Record that's by Joseph Gordon Levitt. It's like a variety show with little shorts made by a collaboration of artists. The show won an Emmy, so we got little certificates with "Emmy-award winning" on it.
From there, it's just been gigs here and there. I also teach lots of different classes starting from elementary school up to college.
What project(s) are you most proud of and why?  
The work I did with Hit Record. There's a really famous rotoscope animation that's online that was on the front page of Reddit. It's really popular, and it's gotten me most of my exposure. It's of Joseph Gordon Levitt and they used it in their TV series. It's him twisting around and then falling over. It's 187 frames, which means its 187 different colored drawings. In total, it probably took me about a half hour per frame.
My first comic book (inking and finishing pages of Hellblazer for DC's Vertigo Comics) is one of my favorites because I put so much love and passion into it. It was my very first big gig and I'm proud of it. The TV show Constantine is based off that comic.
What's been your biggest creative fail?
I don't use the word fail. I don't really like to blame myself for things that go wrong. Sometimes things just don't go into motion.
If someone doesn't have a vision or they don't seem very inspired by the work that they do, I probably won't be inspired either. It's hard to work with people who are lackluster about the job.
What are your favorite unusual media or motifs to mix into your work? (i.e. ketchup and mustard painting, etc.)
I love sculpting weird things. During the Halloween season I get hired out to sculpt pumpkins for events. There's a t-shirt company called Threadless and they hired me to go to their office in Chicago and sculpt five pumpkins for them. Last year I was hired by a Halloween festival in Manitowoc and I sculpted pumpkins for their Hodag festival.
I love working with bizarre media and experimenting. In inking, if you want to get a good scatter, using a toothbrush is helpful. When it comes to painting, I'm always using my fingers. But as a renter, I have to be careful of what media I'm using. I have to smother some of the flames to be sure I'm not ruining carpet!
What are some of the big professionals do's and don't's you've learned along the way?
One of the first lessons I learned when I went to school was don't do anything for free. Don't do anything for exposure unless it's a really big company and you've heard of them and you know it's a good deal.
Do as many rough drafts as you possibly can to get your point across. It's important to get 100% yes on something and then finish it and have them happy with it rather than give them a half-assed draft and then have them approve it and do it and have them hate it.
If you could tell people who are new to their creative careers or hitting a roadblock one thing, what would it be?
It's so important to keep working. If you find that you're a bad self-boss, then the best thing you can do is pick up as many gigs and art jobs as you can. That way, you're forced to keep going. If you stop, it's hard to get back into it.
It's the difference between having your passion stay your passion and having your passion become your livelihood. You have to sit down and do it, or it's not going to get done and someone else will do it.
How does good design, really creative design, impact a business?
It's really a matter of looking at the world in a different way. If you have a business without a creative, then you're going to be limited to one kind of look at the world.
Not only will a great designer add beauty and life to something and add a unique take on things, they also are going to look at problem solving in a different way. That other view of problem solving is so important for a company. I've seen companies move in the same direction and not experience change and not experience improvement just because there hasn't been anyone brought in that would look at something in a different way.
In general, a good design can pull things together. A good designer and a good view can tie it up.
How have you been able to see that or measure that impact in your career?
I worked for four years at a company called TruScribe in Madison. We worked on dry erase board videos for advertisements. That whole company thrived off creatives and they got a bunch of awards. They really looked at things in a different way.
[Ed.'s note: Weird Al Yankovic picked TruScribe to help him make a whiteboard video for his song "Mission Statement" in 2014. You can watch it here.]
The company I'm with now never had a creative before I came into it. Since being here for a year, we've already expanded the way we do things and a lot more detail is taken into account and there's a lot less mess-ups along the way.

How do you think the creative industry will change in the next few years or decades?
I've seen people doing those 3D VR paintings, and I really think that's going to get big. It's mesmerizing just to watch it.
I'd like to think that websites are going to start getting into the same thing where you can put on your VR glasses and follow through a three-dimensional website. I think art is going to be more submersive.
I think people are going to be more interested into what leads up to the art instead of the final product, like on Instagram where artists are posting their in-progress videos. I'm definitely all for it.
Who do you follow for inspiration and through what medium? (Instagram, podcast, etc.)
Frazetta Girls, run by fantasy and science fiction artist Fran Frazetta's granddaughter.
Kim Jung Gi. He starts with just a pen and creates these insane drawings of scenes and people and animals. He gives this almost this anthropomorphic humanity to everything he draws, even if he's drawing a city scene.
I also follow a lot of tattoo artists. They're bringing in artists who were artists before they were tattoo artists and you're seeing tattoos come out to be hugely gorgeous pieces of art.
One last question: What does your work environment look like?
I have my computer desk right next to my drawing desk and a huge trunk filled with artwork. A rule I was taught is never throw away your artwork. I also have four different cupboards filled with artwork plus a large bookcase filled with comic books. There are usually a few dogs sleeping on the ground.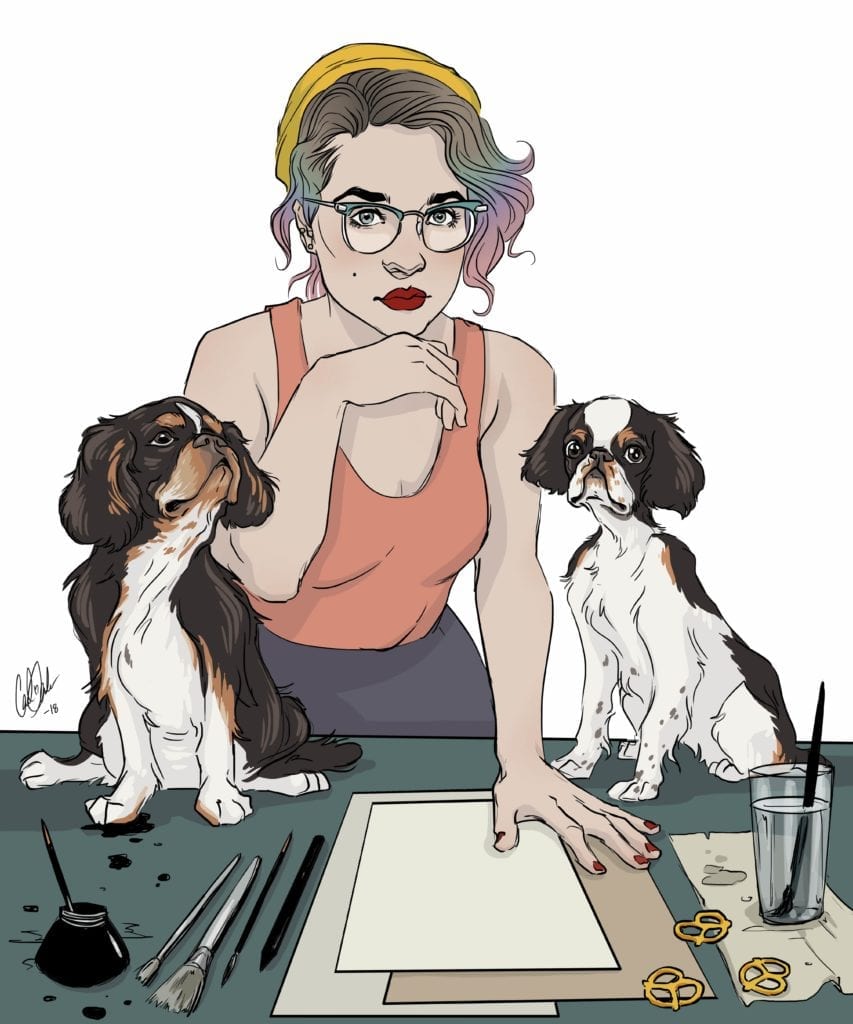 —
Author: Rachel Keranen | @river_rach
Illustrator: Carli Ihde | @carlieyed
Creator of the Month: Carli Ihde  | @carlieyed
Check out all the interviews and illustrations here.