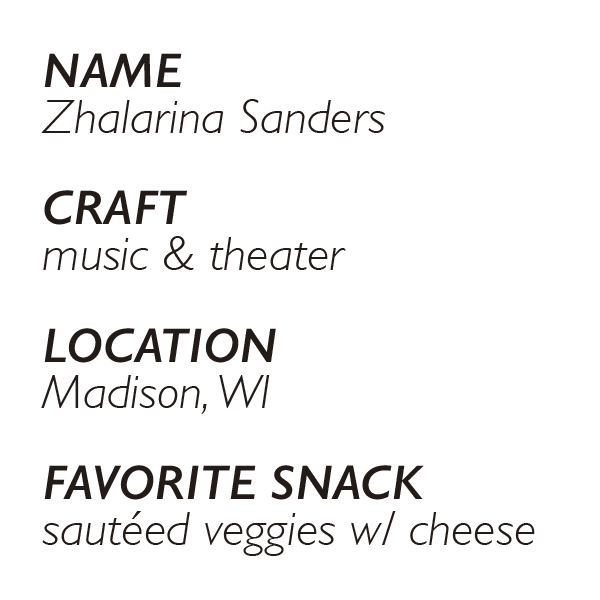 What sort of art or design do you do?
I am a Hip-Hop and Theater artist.
How long have you been doing this kind of art?
I have been creating music since I was 6. I've been acting and writing plays since I was 13.
How did you get to the level of success you have today?
I've been performing for audiences since the age of 11. I began competing in talent shows and poetry slams in the 5th grade and this led to opportunities for travel and networking. I was also fortunate enough to earn acceptance to the First Wave program at UW-Madison, which is a Hip-Hop an Urban Arts learning community that recruits artist from all over the country to study and create.
What project are you most proud of and why?
I am most proud of the album I am currently working on and my play Rose Gold. It is a one-person piece of Hip-Hop theater where I play six characters. The show is about five black women seeking to reconcile in the midsts of betrayal, trauma, sickness.
What's been your biggest creative challenge?
My biggest creative challenge so far has been the completion of my album. Though it is the project that I am most proud of, it is also the most difficult to work on consistently as I struggle with over-editing and executing very specific ideas.
What are your favorite unusual media or motifs to mix into your work?
I love to include unmixed/raw files for in my music. These range from voice memos to voicemails.
What are some of the big professionals do's and don'ts you've learned along the way?
///// DO /////
Beware of distractions, they are plenty
Remember that "the process" is heavily peppered with seasons where we're unable to generate work.
Let ideas and the direction the of your works change as often as they need to.
Remember that motivation PRECEDES inspiration.
///// DON'T /////
Believe that it's too late
Choose the relief and convenience of stopping the creative process over the pain of pushing through the difficult moments
Forget to appropriately value my work as I am requested to perform, create, consult, etc.
Fall to the temptation of discontentment.
If you could tell people who are new to their creative careers or hitting a roadblock one thing, what would it be?
It takes humility to create. It takes a willingness to be unrefined, barely practiced, and lacking excellence in public.
How do design and creativity impact a business?
Art thrives through business because it is the process by which creativity and design are operationalized, distributed, and tracked. Simultaneously, creative ideas are the backdrop of business. In order to grow, a business needs to be constantly considering how to innovate and find new opportunities. These tasks require inventiveness and nuance. Additionally, creativity is greatly beneficial to the morale of employees as studies have found that it contributes to workplace satisfaction and performance.
How have you been able to see that or measure that impact in your career?
I have been asked to perform at events for companies/organizations who want to add entertaining or emotionally-stirring content to their events. Sometimes the goal is to encourage donations, a desire to engage with the community, reflect, etc. I have also been asked to generate/share ideas on creative ways these companies can reach youth.
Are there examples of that kind of impact outside of your own experience that you admire?
Absolutely! One of the first times I remember really admiring how creativity impacts business was when I was in high school as a cadet of the Marine Corps JROTC program. I was given my first set of Dress Blues to wear and couldn't stop staring at them. The intentional work of it makes it, in my personal opinion, the most beautiful uniform in the military. It was always our favorite thing to wear and only came out on special occasions.
How do you think the creative industry will change in the next few years or decades?
I hope artists continue to try and produce independently. Having a label/studio is helpful and a great resource but creative control (freedom) and entrepreneurship are so valuable. I've learned so much in just a short time.
Who do you follow for inspiration and through what medium? (Instagram, podcast, etc.)
I try to follow artists who work hard and value work ethic, focus, humility, and service. Some of these folks are Dwayne "The Rock" Johnson, Kevin Hart, Tobe Nwigwe, and Jocko Willink.
—
Author: Rachel Keranen | @river_rach
Illustrator: Carli Ihde | @carlieyed
Creator of the Month: Zhalarina Sanders  | @zhalarina
Check out all the interviews and illustrations here.