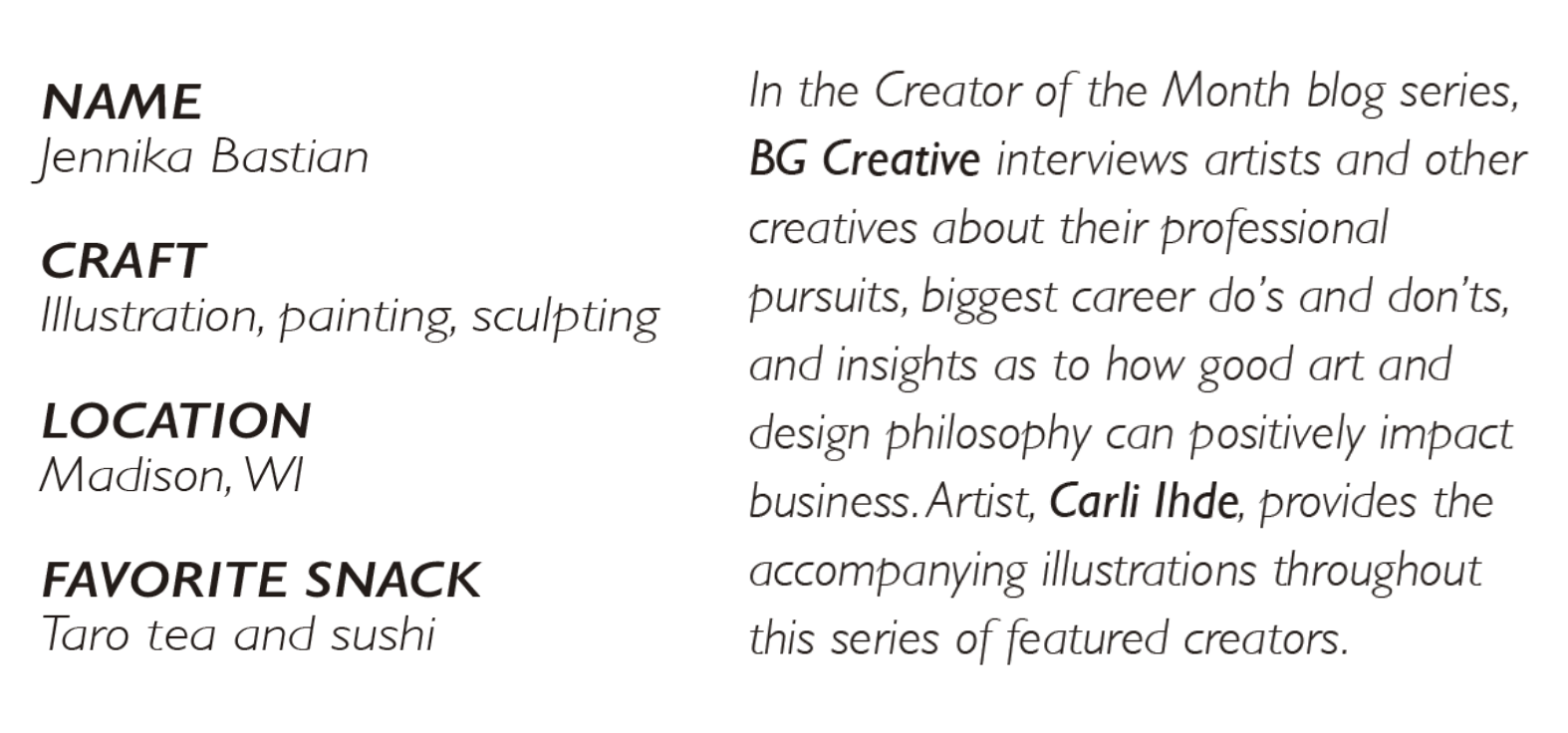 Jennika, what sort of art or design do you do?
I'd say my main medium is oil painting. Aesthetically, my work is characterized by gestural line work, emotive swaths of color, paired with realistically rendered fragments of environments and characters that cause the viewer to peer into my reality through a fantastical lens. I am very inspired by folklore stories, particularly ones that are metaphors for the conversation between the conscious and the subconscious mind, as well as the healing of the psyche. I also draw, sculpt, and do many different types of commissions including book illustration and murals.
What has been your path to success as an artist?
I've been creating art ever since I could hold a pencil. As a kid, drawing was my absolute favorite thing to do. My parents are awesome and they kept a good portion of my childhood art; there are bins in their basement with literally thousands of my drawings.
I was introduced to oil painting as a freshman in high school and just fell in love with the medium. Around the same time I started selling my first art pieces and getting commissions. My art studio was my parents basement where I would wear a gas mask to protect myself from breathing in paint thinner! Haha.
I went to UW Madison for my Bachelor of Fine Arts, graduating in 2013. Since then, I've created my income selling my personal work, art commissions as well as giving private art lessons to children. I am also employed part time at Madison Children's Museum, creating collaborative art with kids and working behind the scenes on exhibits.
I've done several artist residencies, the most recent one being EUARCA+, in tandem with the exhibition Documenta 14, in Kassel Germany, which I was awarded through Dane Arts. My freelance work includes illustrating a young adult fantasy series, installation design for Burning Man, and paper mache mask sculptures.
What project(s) are you most proud of and why?
I am very proud of two oil paintings I created while I was at the artist residency a year and a half ago in Germany, exploring The Brothers Grimm folktales. The residency was two weeks long, and other than eating, sleeping, running, spending time with the other artists and visiting the art gathering Documenta, literally all I did was paint! Two of the nights I didn't even sleep and just painted; it felt incredible to have almost no obligations rather than just pour my creativity into art.
It was one of the best creative flow states I've ever been in and I think they are two of my strongest pieces I've made so far. These are both shown below: the painting of the figure with two faces, a heart floating in a forest, spinning stories, and the painting of Hansel and Gretel.
What's been your biggest creative fail?
Nothing totally monumental is coming to my mind, so I'll share a couple of smaller rather humorous ones.
There was one time in college where I was creating a large painting in my studio and the day of the gallery show I realized that it was too big to fit through my studio door! I laughed a lot, but it was so dumb and I had to completely deconstruct the canvas and re-build it outside of my studio.
Another fail was my very first solo art show, I had a series of intricate colored pencil drawings on display in the window of a gallery that got a lot of sunlight. When I went to pick my pieces up at the end of the show to my dismay the sun had damaged the pieces and stripped away most of the colors. I was so disappointed and also embarrassed because the pieces just looked awful.

What are your favorite unusual media or motifs to mix into your work? (i.e. pen and ink, ketchup and mustard painting, watercolor and digital, etc.)
Some of my more unusual pieces are created with kids at the Children's Museum. For the past four years of working there, I've developed a program called "Collaborative Art." I have an easel and canvas in our art studio exhibit area and invite whoever happens to be at the museum at the time to add to the piece, from little two year olds to grandparents.
Each of these paintings is an ephemeral, shapeshifting game; a documentation of a community of thoughts played out, scribbled and adapted off one another. A dinosaur maiden exploring a robot city, a snail astronaut heroine and a monster sock maker are a few of the characters we've created together.
My goal creating these pieces is to help build kids self-confidence in creative experimentation, while teaching painting techniques, sharing space and respecting others. I learn so much through every piece; working in this way dissolves attachments to my own vision of how the piece should become and leads me to be constantly adaptive in responding to completely new directions of form. Feeling through this process has also helped me gain a more nuanced understanding on the flow of imaginative conversation: when and how can dialogue (or lack thereof) open or hinder the creative inspiration of others?
Another very interesting medium I got to work with recently was a wearable crown made of ceramic, glaze, crystal, leather, and real living plants growing out of the many openings of the piece. It was commissioned by BG Creative to be the central wearable art piece in the fashion, dance and art party, SPHERES, this past November. This piece is also displayed below.

What are some of the big professionals do's and don't's you've learned along the way?
/// DO'S ///
1) Reach out to other artists who are at a more successful stage of their career than you are at and ask them questions; I used to be intimidated by this, but more often than not, artists love to share what's worked for them and what hasn't. They remember being in a similar place to you and remember the people who helped them along the way.
2) Set a weekly schedule for yourself and be disciplined with it! I like to plan out designated blocks of time for marketing, researching galleries, artist residencies, packaging pieces to be mailed, framing and social media networking along with the majority of my time towards creating my art. If I don't map out what my weekly goals are, I tend to procrastinate the less fun parts or just get overwhelmed.
3) Go to as many art shows, museums and gallery openings as you can. Read art magazines that you would like to see your art in one day. Pay attention to ways other artists talk about their work and which qualities you admire/ would like to take inspiration from into your own practice.
/// DON'T'S ///
1) Don't agree to be compensated for less than what your work is worth and learn to be ok with saying "no" to projects. Your time is incredibly valuable, so don't create art for free with the promise of "exposure." This is perhaps one of the most common pieces of advice for a career in the arts, but it's worth saying because it took me so long to learn! One of the stereotypes about being an artist is the age old "starving artist" persona: that pursuing a career in art means forfeiting financial stability. Notice when your mind is adopting these self limiting beliefs and be conscious of challenging them.
2) Create a formula for the amount you are selling your work for. When you raise prices, keep it consistent. This is professional and helps create a trusting relationship with galleries and clients. Keeping track of how much time each piece takes you to make will help. I used to not do this, because one of my favorite parts of art creation was to not think of time and just lose myself in the piece. However, it's so helpful when pricing your creations.
If you could tell people who are new to their creative careers or hitting a roadblock one thing, what would it be?
Be kind and gentle to yourself when you feel like you're in a creative rut, or feeling stuck. Here are two talks that I really resonate with that have helped me when I've felt this way:
The first one is a commencement speech by one of my favorite authors, Neil Gaiman:
https://www.youtube.com/watch?v=ikAb-NYkseI
And this one by John Cleese:
https://www.youtube.com/watch?v=Pb5oIIPO62g
How does good design, really creative design, impact a business?
Having an extremely unique and noticeable style is one of the most important things as an artist. If an art piece can be immediately recognized as your own and could never have been created by anyone else, this puts it in a place of great value. My intent is to have an identifiable enough style so that the themes and subjects I explore in my work can be free and always constantly changing as I change so that I don't pigeon-hole myself.
Creative design also has to do with being thoughtful of your target audience, the language you use to write about your art or what you are selling, the ways that you connect with social media, the accessibility of your website.
Working for the past five years at Madison Children's Museum has also opened my eyes so much into what successful creative design looks like and it can positively impact a community. It's been voted multiple times to be in the top 10 Children's Museum's in America and has a LEED (Leadership in Energy and Environmental Design) Gold certification. The exhibits team is incredibly dedicated to creating unique spaces that are accessible, inclusive, immersive, sustainable, playful, imaginative, promotes healthy risk taking and are learning oriented.
From a human-sized gerbil wheel that encourages kids to conquer their fears of heights, to the magical five story climber crafted by local metalsmiths in one of our stairwells, amidst the sounds and visions of onomatopoeia words, this place is just a mecca of creative design. It's honestly hard for me to describe in words how amazing and inspiring this place is. I've had the opportunity to create many murals, sculptures and elements of exhibits spaces in collaboration with other artists on our team.

How have you been able to see that or measure that impact in your career?
Since I've put the time into designing a quality website and business cards, as well as refining my art style, I've had a large increase in sales and connections with clients. Currently I am very good and dedicated at producing my best possible art every day, having a professional relationship with clients and always meeting deadlines. However, I honestly still have a lot to learn with navigating social media and self promotion.
One method that I've found as a successful creative method in self promotion is creating live art as many places as I can. I do so pretty frequently at my art shows, concerts and in parks when it is nice weather. I've met so many people through doing this that have ended up buying my work or requesting commissions. Also, finding places to showcase my art that is outside the gallery scene. Music venues, public buildings, cafes, libraries, restaurants…. these places can be great because many times they don't charge a commission fee if I were to sell a piece.

How do you think the creative industry will change in the next few years or decades?
With the increasing amount of technology that is being developed in the realm of artificial intelligence, I think there will a very significant amount of jobs that won't exist anymore, leading towards more people seeking jobs in the creative industry.

Who do you follow for inspiration and through what medium? Include links (Instagram, podcast, etc.)
Some of my favorite artists I am very inspired by are James Jean, Lauren YS, Mab Graves, Hannah Yata, Noel Longhaul, Soey Milk, Lily Morris, Andrew Hem, Lindy Levendall and Martin Wittfooth.
What does your work environment look like?
My studio is in a warehouse style space: unfinished cement floors/ceiling, big windows.
There are large canvases everywhere, lots of paper mache creature masks and an old off-key miniature piano in the corner. On the table near the easel where I paint, I have a collection of animal skulls that I've found over the years. There are books on fairy tales scattered around, and a special collection of carved wooden gnomes that my cousin Hannah gave to me.

Is there anything else you'd like to share?
I have a bearded dragon named Hour, and he controls the weather.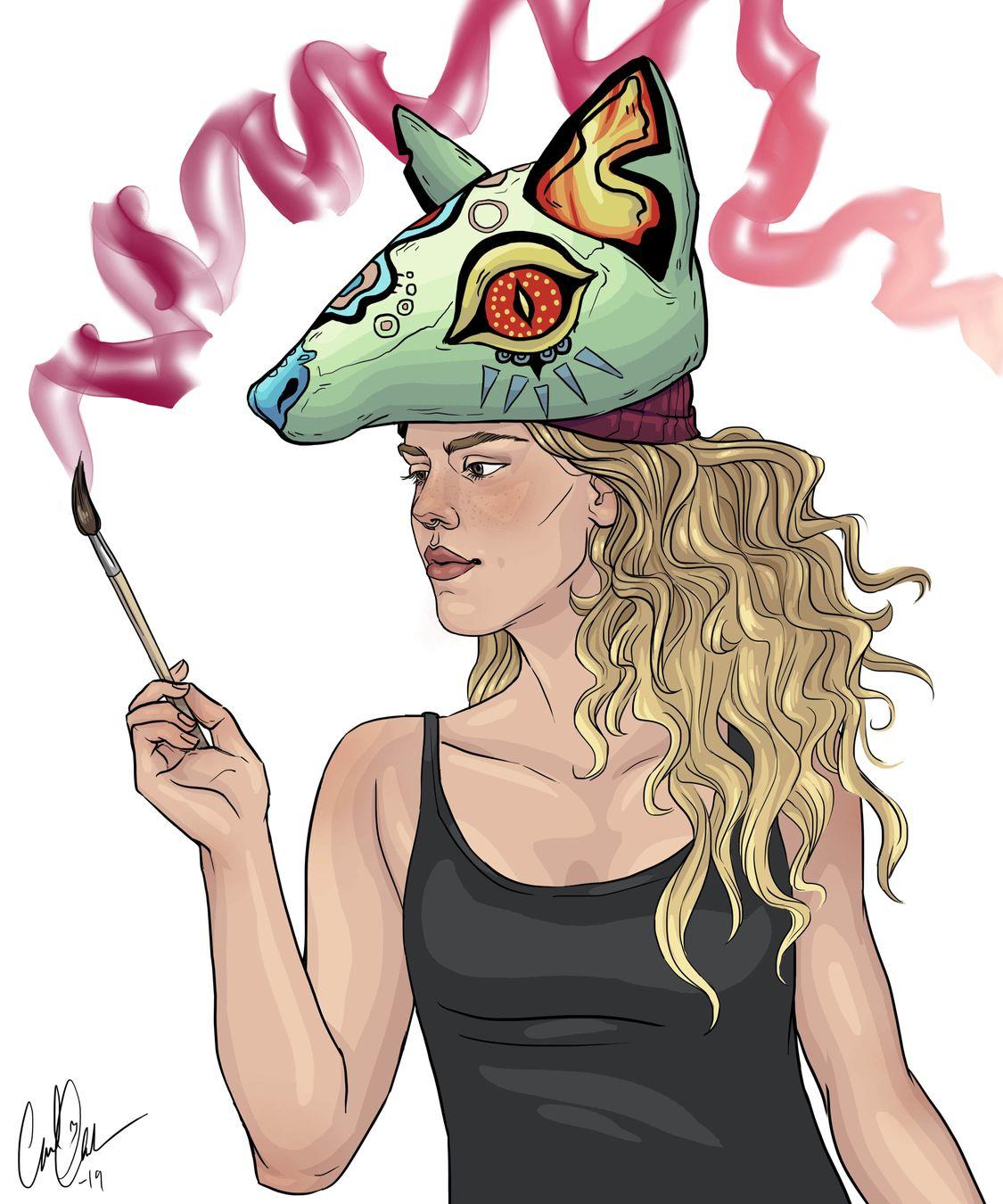 —
Author: BG Creative | @bgcre8
Illustrator: Carli Ihde | @carlieyed
Creator of the Month: Jennika Bastian  | @jennikabastianart
Check out all the interviews and illustrations here.