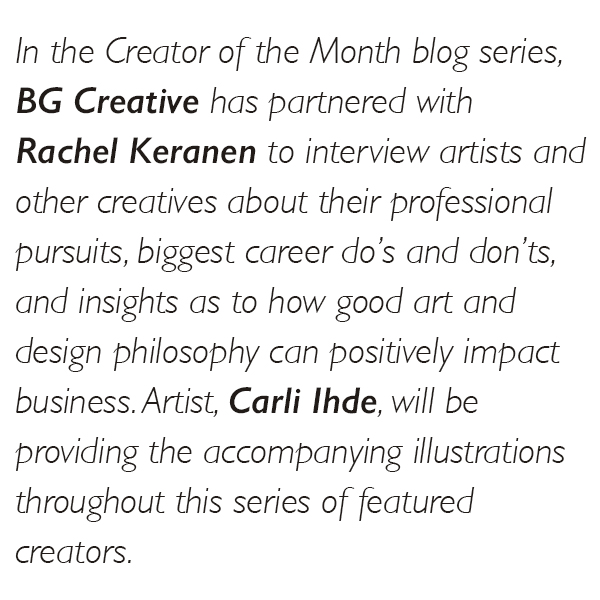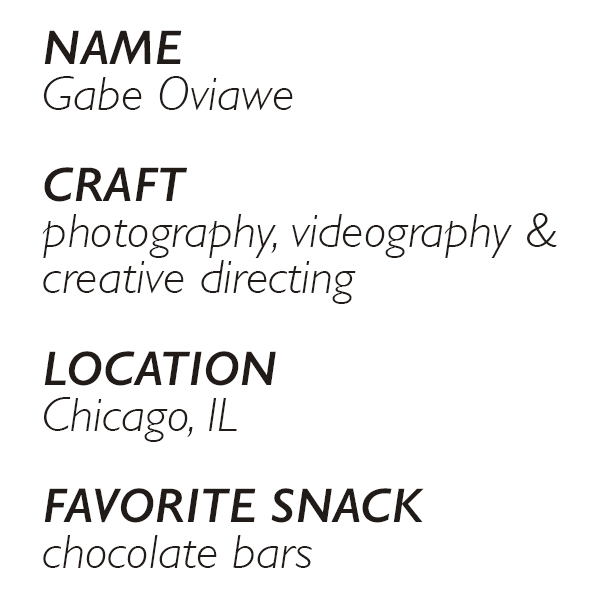 What sort of art do you do?
I am a photographer. I've been taking photos for seven or eight years now, and I started getting paid actively for my creative work two or three years ago. I've been a photographer full-time for a year.
I travel back and forth from Illinois to Wisconsin often for shoots, and I recently did a shoot in Manhattan.
How did you get to the level of success you have today?
I was 14 when I started photography through a high school photography class.
My career has essentially been just word of mouth. I push myself to improve every day and to work with bigger and better people. And through that, it has allowed me to support myself.
I work a lot with brands. My most recent shoot with a bigger brand was Vans. People also hire me out for home portraits. Last week a child turned one and I shot some things for their birthday.
What project(s) are you most proud of and why?  
Every day I try to improve, so nine times out of 10, I like the photo I take today more than the one I took yesterday.
Off the top of my head, I can think of one, maybe two photos that I still would include in my top five.
(Ed.'s note: Here are Gabe's top five.)
Have you had any especially challenging projects?
Every project has its challenge to me to learn new things. I'm not sure if I would call that challenging. I consider it as fun. I enjoy having to look for resources.
What are your favorite motifs to mix into your work?
If anything, I have a certain visual aesthetic that I try to have present in my work. Overall, they're very clean, very less staged, or they feel less staged. They're in a more documentarian style.
In an average project shoot or a commercial shoot, the overall goal is the photo feels like it could happen in real life, even though it's very stylized. It really is the capture of a perfect moment.
What are some of the big professionals do's and don't's you've learned along the way?
The major thing that I have learned that people should work on is not how to take critique but how to properly behave in a critique. How to be concise and explain your point. How to explain why you don't like something and how you can make it better.
There are numerous situations where I've been part of a team or seen a team make something and have that product be less than satisfactory and no one on that team will take the responsibility to be the one to say "Hey guys, this is shit." No one calls their friends out and says "Hey, this is bad, and we should make this better. " People need to get used to telling people that.
If your name is going to be attached to something and you would like this to be your life, you have to do it.
If you could tell people who are new to their creative careers or hitting a roadblock one thing, what would it be?
You have to work past it if you really want it. Just keep going. If you just keep moving past it, it gets nicer, it gets better.
There's been numerous roadblocks in my life. Like me not thinking my work is strong. And having certain things go wrong in my life and being posed decisions to support myself sometimes. At those times, you just have to decide if this is what you want to do and do it.
For me, once I started making money, I knew I was going to make more. I felt like as long as I did good work, I would always make more money. I just looked at it as a first step, a milestone.
How does good design, really creative design, impact a business?
Your brand or your business really cannot become next level without good branding, without a visual. Your brand or your business is incapable of spreading.
The brand gets the name of the corporation out. It gets people involved. It gets it in the household and it makes it a part of the culture.
How does the visual aspect of branding compare to other parts of a brand?
Visual arts speaks to more of the culture. Visual arts and photography, in its nature, is documentarian. When you take a photo, you document social culture. There's an immediate association to "That person looks like me, this person likes those things, I should like those things." With auditory things, there's none of that.
Are there examples of that kind of impact outside of your own experience that you admire?
Streetwear brands and things like that. A-Cold-Wall and OHKAY are two examples.
How do you think the creative industry will change in the next few years or decades?
I'm hoping that a project I'm working on will be one of the things that pushes the creative industry toward a new perspective. I'm hoping that the next creative age will be more communication between different types of creators.
Who do you follow for inspiration and through what medium? (Instagram, podcast, etc.)
Other photographers on Instagram including:
Geordie Wood, a Brooklyn-based photographer whose portfolio ranges from Patagonia to Obama to Gucci Mane
John Gregory, a Hong Kong-based photographer
Magnum Photos, a photographic cooperative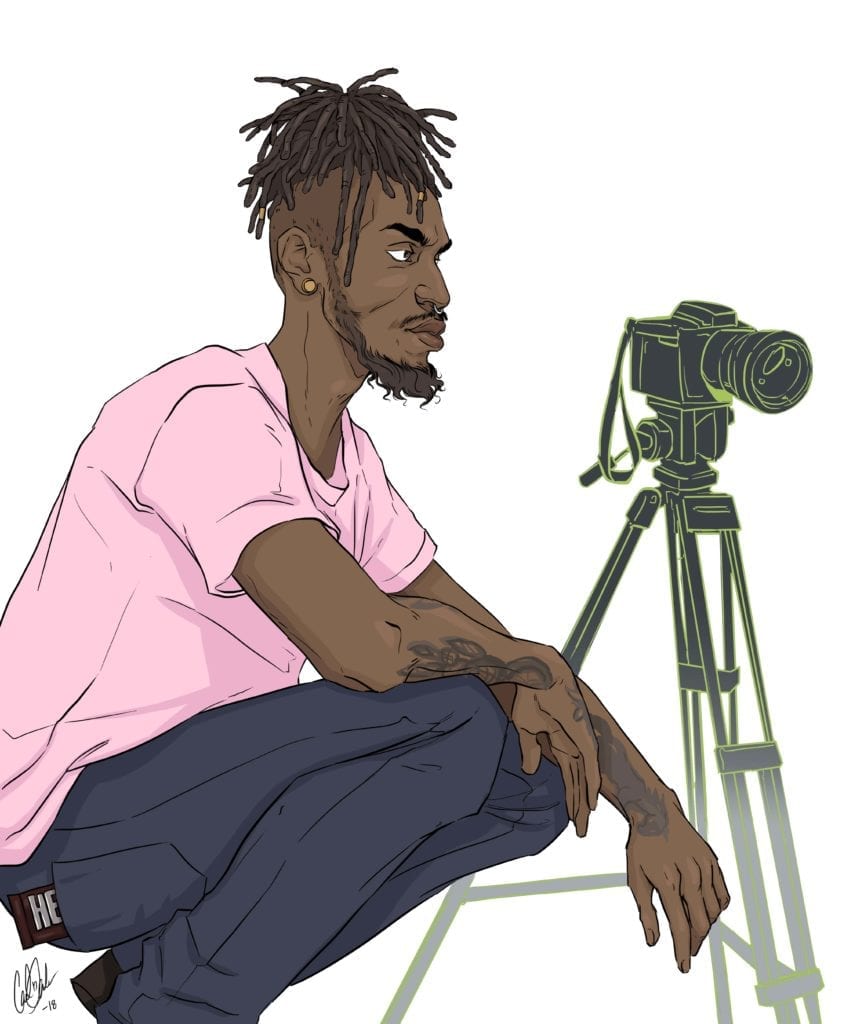 —
Author: Rachel Keranen | @river_rach
Illustrator: Carli Ihde | @carlieyed
Creator of the Month: Gabe Oviawe  | @gabeoviawe
Check out all the interviews and illustrations here.