Fernando, what sort of art or design do you do?
My work is very eclectic. I like to draw many different styles. I enjoy that every day is different, and I learn something new along the way. But among all the styles, I prefer cartoon and surrealist realism.
What has been your path to success as an artist?
Work, work and work. Study, experiment with new things and practice every day. When I work for clients, I like to surprise them with the aesthetics of my work, adapting it as much as possible to their needs. I also work very fast, and I think that many clients call me for that reason.
What project(s) are you most proud of and why?
I tend to be more proud of my personal than of my professional work. I usually receive commissions from advertising agencies, and the damn deadline always forces me to deliver before I actually achieve the kind of quality that I prefer to see in the things I create.

There are some commercial projects that I am really proud of, as for instance one of the most recent ones I did for an ad commission by Coca-Cola. They wanted an auteur illustration for a poster with my signature which is quite an unusual thing in advertisement. The poster commemorates the 20th anniversary of the professional relationship between Coca-Cola and Ushuaïa, one of the biggest clubs in Ibiza. In that illustration, I used the Coca-Cola bottle as the main element out of which several floral elements, typical of the nightclub, emerge. I used watercolors and chose a palette that intentionally refers to the colors of Ibiza: blue and turquoise of the sea, green vegetation, and some hippie colors.

A few years ago, I also participated in another great project with a very talented team of storytellers, videographers, and animators. We were in charge of creating a video presentation for "Almansur", a theme park set in the Arab history of Spain. I slightly adapted my illustrations to give it an appearance that is more proper of videogames, so it would be less difficult to animate with After Effects for the final video. Unfortunately, the project was too expensive and could not be carried out due to the economic crisis that was currently happening at that time in Spain. An attempt was made to start again in 2015, but it did not obtain the necessary financial investment for such a large project.

What's been your biggest creative fail?
By constantly experimenting, I am used to making mistakes, but I consider it as something positive. It actually think it is the only way to improve. Many of those mistakes can also be "happy mistakes". One of these fortunate mistakes that most frequently use is the inclusion of crackled textures in my digital illustrations. One day, I had an accident working with acrylics. I scanned the illustration with the intention to clean the area digitally, but I realized how wonderful the craquelure textures looked next to illustration. Since then, I often use acrylics with a crackled finish. I even go a step further now and scan at the highest possible resolution to create strange textures with small, almost microscopic details.

Example of crackle texture: Psycho Mata Hary
What are your favorite unusual media or motifs to mix into your work? (i.e. pen and ink, ketchup and mustard painting, watercolor and digital, etc.)
I always look for new possibilities within traditional techniques. One of my favorite and probably weirdest experiments is mixing gesso with rolling tobacco which gives you a lovely base texture for all kinds of vegetation.
What are some of the big professionals do's and don't's you've learned along the way?
Throughout my professional career as an illustrator, I've made big mistakes. I've learned that these three are the most important:
1) The first is that you should never start a final work of art without having good preliminary sketches. If there is not a sketch, or the sketch is bad, workflow is wasted because you're slower and correcting mistakes along the way.
2) The second thing is not being totally honest with yourself and think more about how to get "likes" and "followers" on social networks. This has happened to me sometimes, especially when I started uploading illustrations on Instagram. Currently I only post the works that I really like without thinking too much about the final repercussion. I think it is a very common mistake in this profession.
3) The third is not having a healthy work life balance. Many hours are spent sitting in front of the paper or the computer, and you should know how to stop for some physical activity during the day. This profession punishes the body a lot. Don't punish yourself.
What I do recommend to do in this profession is:
1) Never stop studying! Every day you have to practice, study anatomy, perspective, lighting and color.
2) Leave the comfort zone! Experience many different techniques and styles. There are many people who confuse "having their own style" with artistic limitations. If you only know how to do one thing, that's not style. Style is achieved with a continuous search. I particularly think that having a closed style kills creativity. There are too many things in life to keep only one.
3) Have a social life! The inspiration is out there. A good conversation with someone, a real landscape, an afternoon of beers, see your own city, …these are always better than Google.
If you could tell people who are new to their creative careers or hitting a roadblock one thing, what would it be?
Draw a lot, and enjoy it. The most important thing is to enjoy this work. Do what you want
to do every day, and do not give much importance to social networks. Today, I think that many people draw things to obtain more likes or more followers instead of drawing more sincerely. Doing what you truly love helps to overcome roadblocks.
How does good design, really creative design, impact a business?
The frenetic rhythm of today's society makes the image more important than text, it has a more immediate impact. An image is the opportunity to conquer new customers as they easily attract attention of people passing by. First you see the image, than you read and put it into context. That what companies and marketing departments are coming to know more and more, and that's why the illustration is so important to them.

How have you been able to see that or measure that impact in your career?
I cannot know the direct financial impact of a good illustration in the profits of a company, but I do notice how small companies turn into larger successful companies using good visual campaigns. Success is linked to good images, and good images are linked to success.

How do you think the creative industry will change in the next few years or decades?
The illustration industry is changing rapidly. I believe that new technologies are
changing work processes. Every day there are appearing improved platform (apps, hardware, etc.) to work faster with more creative options, …but I think you have to stop and think before working. While speed ​​is required at work often regardless the means, entering a production of something too quickly is definitely damaging to the creative process.
Who do you follow for inspiration and through what medium? (Instagram, podcast, etc.)
I follow many authors of very different styles. I usually use Instagram, Behance, Artstation, and Pinterest for that. Currently, my biggest influences are Wylie Beckert, James Jean, Paul Bonner, Even Mehl Admunsen, Poly Bernatene and many more.
What does your work environment look like?
I work at home. I have two rooms, one for traditional art and the other for digital techniques. The "traditional studio" is a chaotic room with natural light. I like to be surrounded by painting materials and references. The room is full of watercolors, gouache, acrylics, oil colors, brushes, papers and books. My digital room, is filled with warm light where I work in between musical instruments and cameras, my other two passions.
Is there anything else you'd like to share?
You will always have to fight for your dreams, and every day I feel lucky to have been working on what I love for more than twenty years.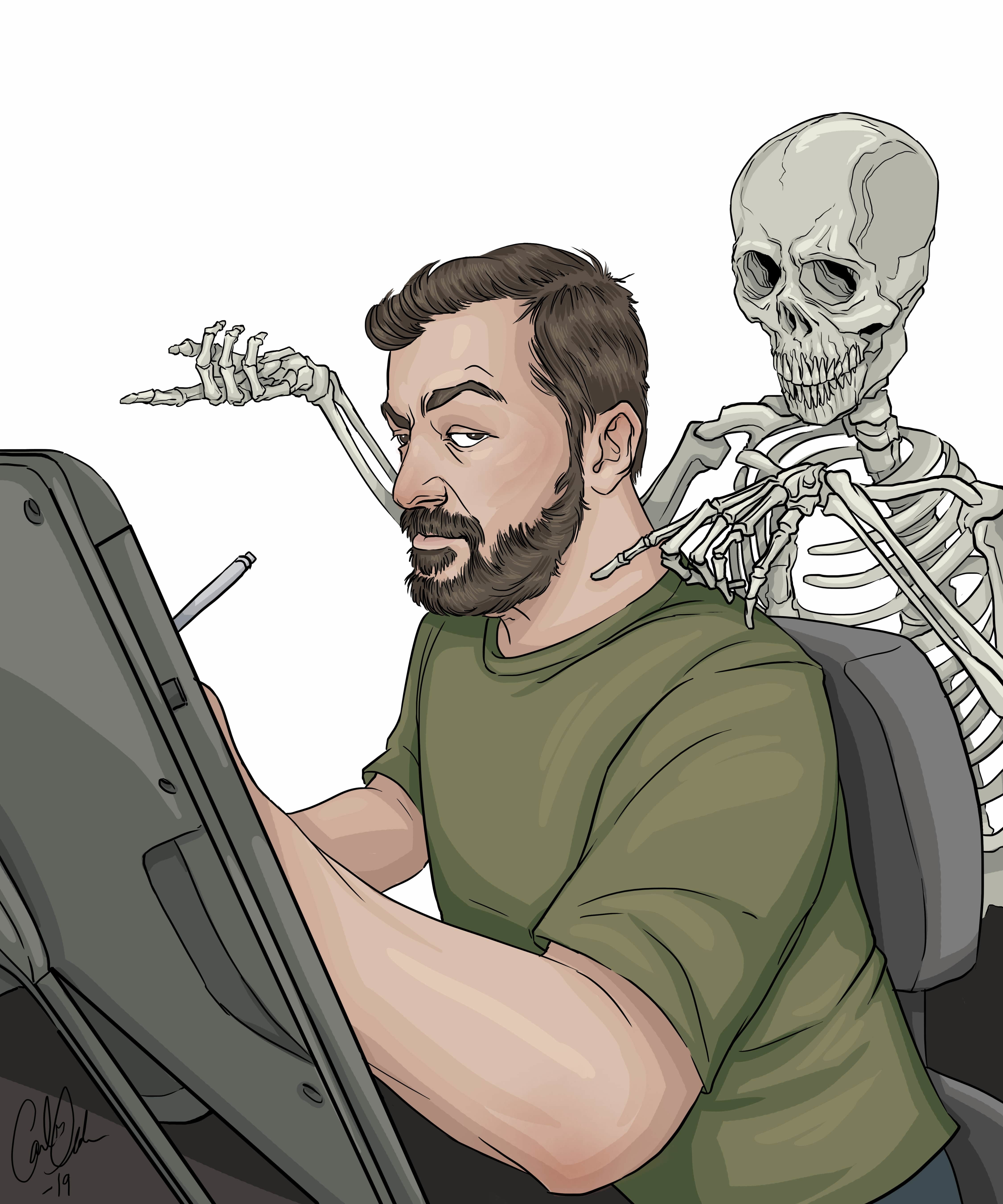 —
Author: BG Creative | @bgcre8
Illustrator: Carli Ihde | @carlieyed
Translator: Jimena Lagunilla
Creator of the Month: Fernando R. Monroy  | @monroyilustrador
Check out all the interviews and illustrations here.